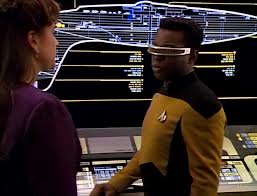 Play the song
The episode "Galaxy's Child" from the TNG crew was a great time.  Space creatures, holodeck confrontations, C-Section Phasers, it had everything.  Had to do a parody for you on one of my favorite episodes.  Thanks Rico Dostie of Treks In Sci Fi for reviewing this episode!
She don't love Geordie
Parody of Van Halen's "You really got me now"
Lyrics and singing by Rick Moyer
Uh!
Leah, at Starbase Three Thirteen
We picked you up so you could see our engines
Leah, you changed your hair you know
On the holodeck you were out of sight!
Leah you are quite rude to me
Not even giving me the time of day
Leah, come dine in with me
I'll make us dinner how bout Fungilli?
She don't love Geordie
She don't love Geordie
She don't love Geordie
Picard explores an Alien
He shoots it dead in space but inside
There's a baby whatchumacallit
They do a C-Section and it survives
The thing it latches on to them
and tries to nurse the Enterprise
Meanwhile in the Jeffries Tube
Geordie makes his moves on ms. Brahams
She don't love Geordie
She don't love Geordie
She don't love Geordie
You're married oh no! AH
Now we've got to team on up
and stop the baby from draining our power
Now to the astroid field
We've got to find a way for them to leave
Back on the holodeck
Leah freaks on Geordi's fantasy
The two they reconcile their fears
Team up and change the power frequency
They soured the milk
They soured the milk
They soured the milk
Oh
Oh Oh Oh
Share on Facebook