April 17th, 20011
Cheesy Sci-Fi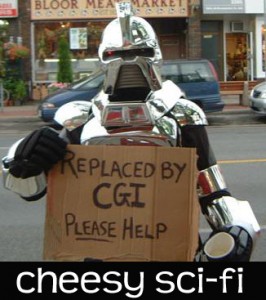 Play Cheesy Sci-Fi
I have long been a fan of campy sci-fi shows.  I love B movies with a sci-fi theme from Godzilla to "They came from outerspace"  Had to put together a song that is techno and rocks at the same time and thus… CHEESY SCI-FI the song was born.  This is an original where I wrote, recorded and performed the song.  ENJOY!
Cheesy Sci-Fi
written and performed by Rick Moyer
copyright 2011 Moyer Multi Media LLC
Don't you think I like it when I see the fishing line?
Don't you think I know it when the actor blows his line?
Don't you think I dig it when costumes don't fit right?
Don't you think it's cool on sci fi Friday night?
 Lasers that are drawn in to make it look real hip
Sparks and smoke they fill the place and shake the fake spaceship
Overacting gone awry and spandex in the mix
And plastic props and boulders  so we can get our kicks 
I want cheesy sci fi
You want cheesy sci fi
We want cheesy sci fi
Not your fly by night guy
Chorus:
Somethin on the TV
Rubber Mask that's cheesy
Robots make it easy
Come on entertain me
cheesy sci fi
Karate chopping captains that use both of their hands
And monsters in a rug suit roaming all through the land
Vehicles that look like they rolled out of Mad Max
And green blood dripping everywhere From Alien attacks
And don't forget the sound effects that entertain our ears
From Spaceships to the atmosphere  decapitation fears
All of this it  makes for sci fi that we love
So bring on the Aliens from the hovering ships above
 Chorus X 2
Cool talk voice solo
Chorus
Share on Facebook
Leave a Reply