Encased in Ice
This is a tribute to the Voyager episode "Timeless"  what a cool episode full of time travel, frozen borgs and more.  Enjoy the parody.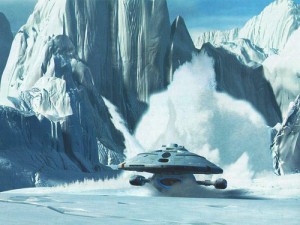 Play: 
A parody of Foreigner's "As Cold as Ice"
Lyrics and sung by Rick Moyer
You're encased in ice
You're stuck in the ice from up above
Kim he gave some bad advice
and someday he'll pay the price I know
the glitch in the drive, a dangerous stunt
Harry's idea with a shuttle in front
Buried in time Harry wants it right
Recruited Chakoty, to join in his fight….
Voyager's encased in ice
The doctor he helps them with their plan
Can use seven of nine
Cranial implant time, you know
Temporal transmitter, take us back in time
Make things right leave the past behind
Rescue the crew so they won't do the fly
To bad the two guys both have to die….
(Cold as ice) You know that they are
(Cold-cold, As-as ice) The quantum slip stream drive
(Cold-cold-cold, As-as-as ice)
(Ooh-ooh-ooh) (Cold as, cold as I-I ice) (You're as cold ice) yes
(Cold as ice) Chakoty's being nice, being nice I know
(Cold as ice) (Cold as, cold as ice) Yes I know
(Cold as ice) (Cold as, cold as ice) Starship Challenger's flight, Captain Geordie's advice I know
(Cold as ice) (Cold as, cold as ice) Oh yes I know
(Cold as ice) (Cold as, cold as ice) No longer lodged in ice, lodged in ice, you know
(Cold as ice) (Cold as, cold as ice) Oh yes I know
(Cold as ice) (Cold as, cold as ice) your message made it through, made it through you know know
Share on Facebook