October 2nd, 2011
GODZILLA!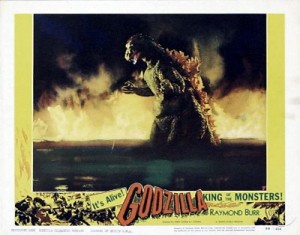 Play Godzilla
My friend Rico Dostie covered the 1956 movie Godzilla!  on his podcast Treks in Sci Fi.  I was searching to make a parody when I remembered the classic Blue Oyster Cult song of the same name.  I decided to do a cover of the song since it said all I wanted to say about the loveable monster.  So here you go, my first cover song… GODZILLA!
Godzilla
by Blue Oyster Cult
Performed by Rick Moyer
With a purposeful grimace and a terrible sound
He pulls the spitting high tension wires down, Godzilla!
Helpless people on subway trains
Scream BUG-EYED as he looks in on them, Godzilla!
He picks up a bus and he throws it back down
As he wades through the buildings toward the center of town, Godzilla
Oh no, they say he's got to go
Go go Godzilla, yeah
Oh no, there goes Tokyo
Go go Godzilla, yeah
Oh no, they say he's got to go
Go go Godzilla, yeah
Oh no, there goes Tokyo
Go go Godzilla, yeah
Rinji news o moshiagemasu!
Rinji news o moshiagemasu!
Godzilla ga Ginza hoomen e mukatte imasu!
Daishkyu hinan shite kudasai!
Daishkyu hinan shite kudasai!
(Attention, emergency news!
Attention, emergency news!
Godzilla is going toward the Ginza area!
Immediately escape, catch up, find shelter please!
Immediately escape, catch up, find shelter please!)
Oh no, they say he's got to go
Go go Godzilla, yeah
Oh no, there goes Tokyo
Go go Godzilla, yeah
History shows again and again
How nature points up(OUT) the folly of men
Godzilla!(4x)
Share on Facebook
Leave a Reply